Chainflip Labs: Join us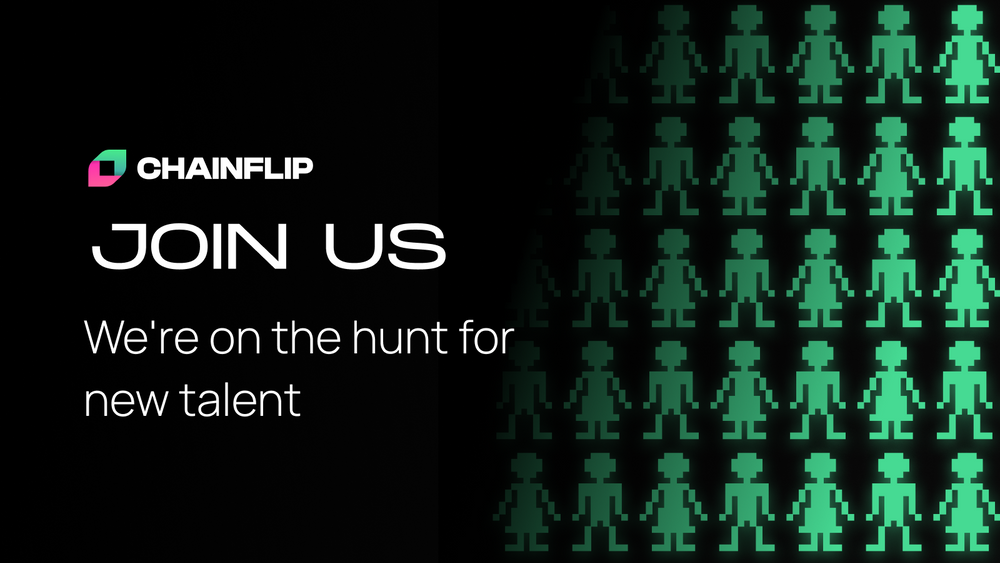 So you've found us. Congratulations. This could be the start of something great. It could also be a nothing - but until we become aware of your existence, none of us will ever know, and that is simply tragic.
Here at Chainflip Labs, we are ALWAYS open to exploring possibilities with like-minded individuals who feel they could be a good fit for our mission, objectives, and team. You can see our current job openings below, but we are big believers in building teams around quality people rather than trying to only by filling specific roles. If you:
Are focused and passionate about cryptocurrencies or blockchain technology and have dedicated the majority of your productive time to the industry over at least the last 12 months;
Possess skills which would be of value to the Chainflip mission, including but not limited to:
Software Engineering (Rust, Solidity, Web)
Cyber Security (Penetration Testing, Code Auditing, Network Hardening)
Quantitative Trading (Software-operated market-making, risk modelling, arbitrage, and other quantitative trading strategies)
Strategy (Trading, Business Development, Protocol Research)
Communications (Community Development, Social Media, Content)
Creative Work (Design, UI, Product Design, Video, Audio);
Open and willing to relocate to one of our office locations in Berlin DE, Dublin IE, or Melbourne AU. Remote candidates are not preferred but can be considered.
Sounds good? Then go no further. Quit McDonald's. Do not work for Facebook. That crypto fund you want to get involved with? Skip it. Your DJ career? It's ok, like our own DJ careers, you already know you're not gonna make it. Instead, why not become a part of a team on the cutting edge of blockchain technology?
Chainflip Labs Mission
We're trying to build a cornerstone of blockchain infrastructure: something that if successful will make web3 universally more accessible, composable, and useful. It is just one building block, but it is one that has remained missing for years. If we can solve it, we unlock new possibilities for web3 as a whole. Our vision is that users and developers can seamlessly transfer value between ecosystems with minimal cost and human effort, enabling programmatic interactions to power the next wave of Web3 protocols and products, and breaking down cultural silos within the space. Eventually, our hope is that Chainflip fades into the background as a piece of key infrastructure that is felt but not seen - an essential pipeline that routes internet-based value efficiently and silently in the background, forming a part of the foundations of the next 20 years of Web3 development.
Our mission is to build a decentralised spot trading protocol that is so good that at least 1 million users choose to permanently switch away from centralised exchanges.
The History of Chainflip Labs
Chainflip Labs was started in 2020 by Simon Harman, CEO and Founder of oxen.io, getsession.org, and of course chainflip.io. Originally, Chainflip was a research project within the Oxen team, but over a few months evolved into its own standalone project developed by the newly formed Chainflip Labs. Growing from just a handful of developers to a fully-fledged team of 23 in just under a year, the Labs are set to continue this growth trajectory over the coming 12 months.
Since starting fundraising in late 2020, Chainflip has raised over $19.5m USD in funding and is set to raise significantly more in the coming weeks and months. Our latest funding announcement on Coindesk is here. Chainflip has secured some of the DeFi sector's top funds, including Framework Ventures and Blockchain Capital, and has established relationships and received funding from many large crypto communities such as Metacartel. Chainflip is a part of the DeFi Alliance, the crypto industry's top accelerator network.
Chainflip Labs Culture
Chainflip's vibrant company culture and mission-focused attitude are why we love coming to work every day. We value personal relationships, look out for one another, and make fun of each other at every available opportunity. We are like-minded people, despite coming from all over the world. We are driven, ambitious, focused on the mission, but share a special vibe and sense of humor that is rare, even among startups.
We have a fairly flat organisation structure, and enjoy a high degree of flexibility despite being a mainly office based company.
How to Join
In order to join Chainflip we need to know a few things about you:
Your job history
Which city you live in (and previous cities)
Your skills
Any evidence you can supply in order to assess your skillz: (githubs, repos, articles, slick tweets, profiles, portfolios, etc)
A personal note about your personal life is also helpful
Long story short, have a resume and send it to us here: team@chainflip.io
FAQ
Do you accept anons?
No. Our policy is that employees of Chainflip have the right to remain unknown to those outside of Chainflip, but we do not accept applications from faceless anons from the internet.
Where are your offices and who is in them?
Our main office is in Berlin. This is where most of the core engineering team and leadership team is. We also run our communications efforts from the Berlin office. In Melbourne, we share an office with the Oxen team and have Rust engineering staff on-site working on the CFE.
Dublin is our newest office run by Lorenzo, and is where our sister company JIT Strategies is located. Market-making, and validator operation activities are run from there, along with other active market activities, analysis, and strategy.
Do I have to relocate? Is the team remote?
In a post COVID era, you might be shocked to hear that there's a 90% chance the relocation answer is yes. That being said, it mostly depends on the role you are applying for and from where you propose to work. If you are somewhere in the European timezone region, it is much more likely that we'll allow remote work. In general though, remote working roles are reserved for specialist roles.
As a standard for the Berlin team, we have optional working-from-home Wednesdays, but largely spend most of our time in our beautiful private Spree-side Kreuzberg headquarters together. We get a lot more collaborative value out of in-person interactions, though we do make sure our remote teammates are looked after as well.
I'm not sure if I have the skills/knowledge or relevant experience to apply, should I apply anyway?
Our top priority is to attract and find good humans. If you're an absolute cryptohead immersed in the culture who digs what you've read on this website, it's very likely that we'll want to speak with you. Or, if you're a shadowy super coder who is hyped about the product and the engineering challenge but knows nothing about crypto, then we will also want to speak to you.

<View open roles >    <Get in touch: team@chainflip.io>