Chainflip Partners with Axelar and Squid to Expand DeFi to New Assets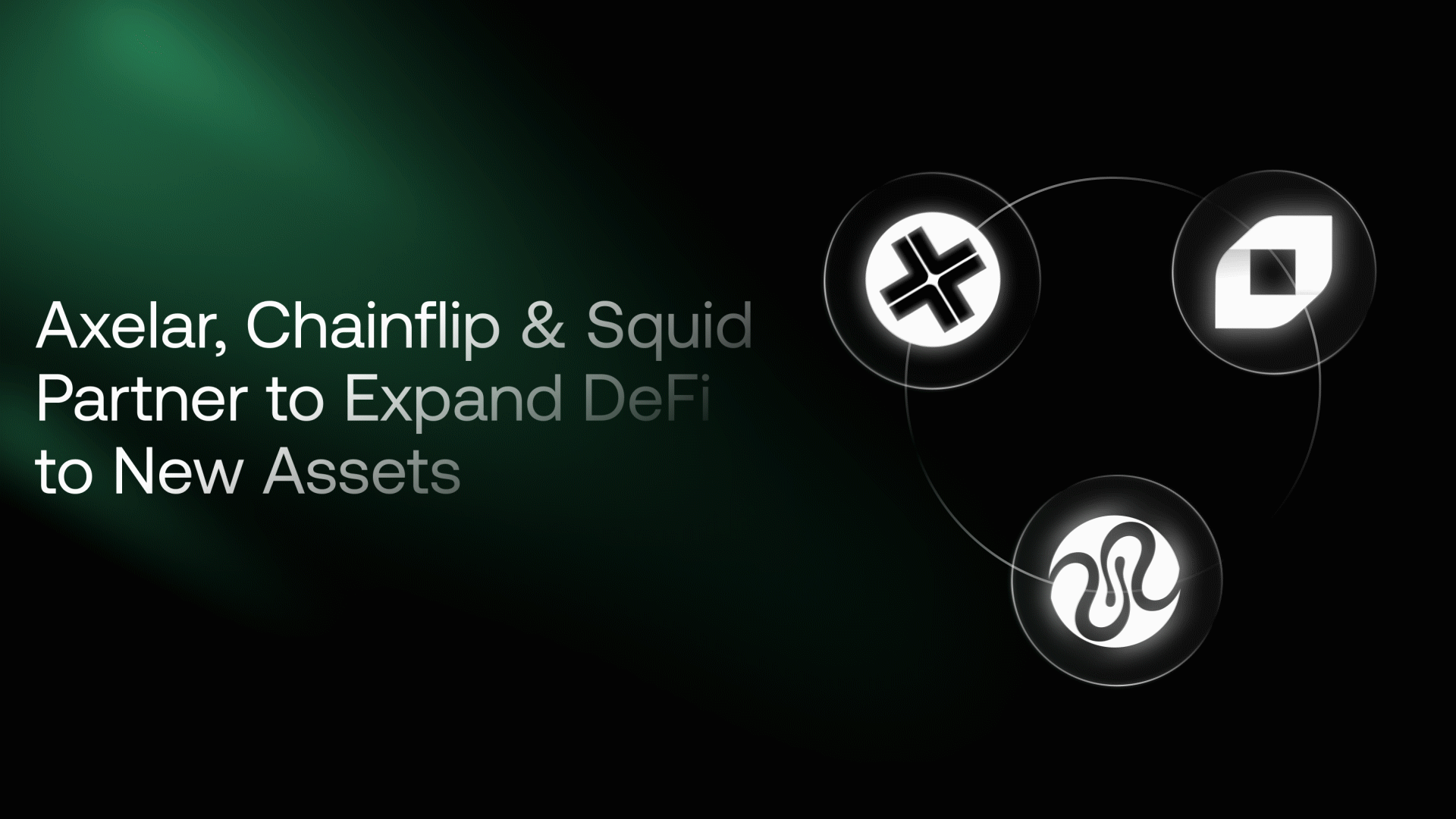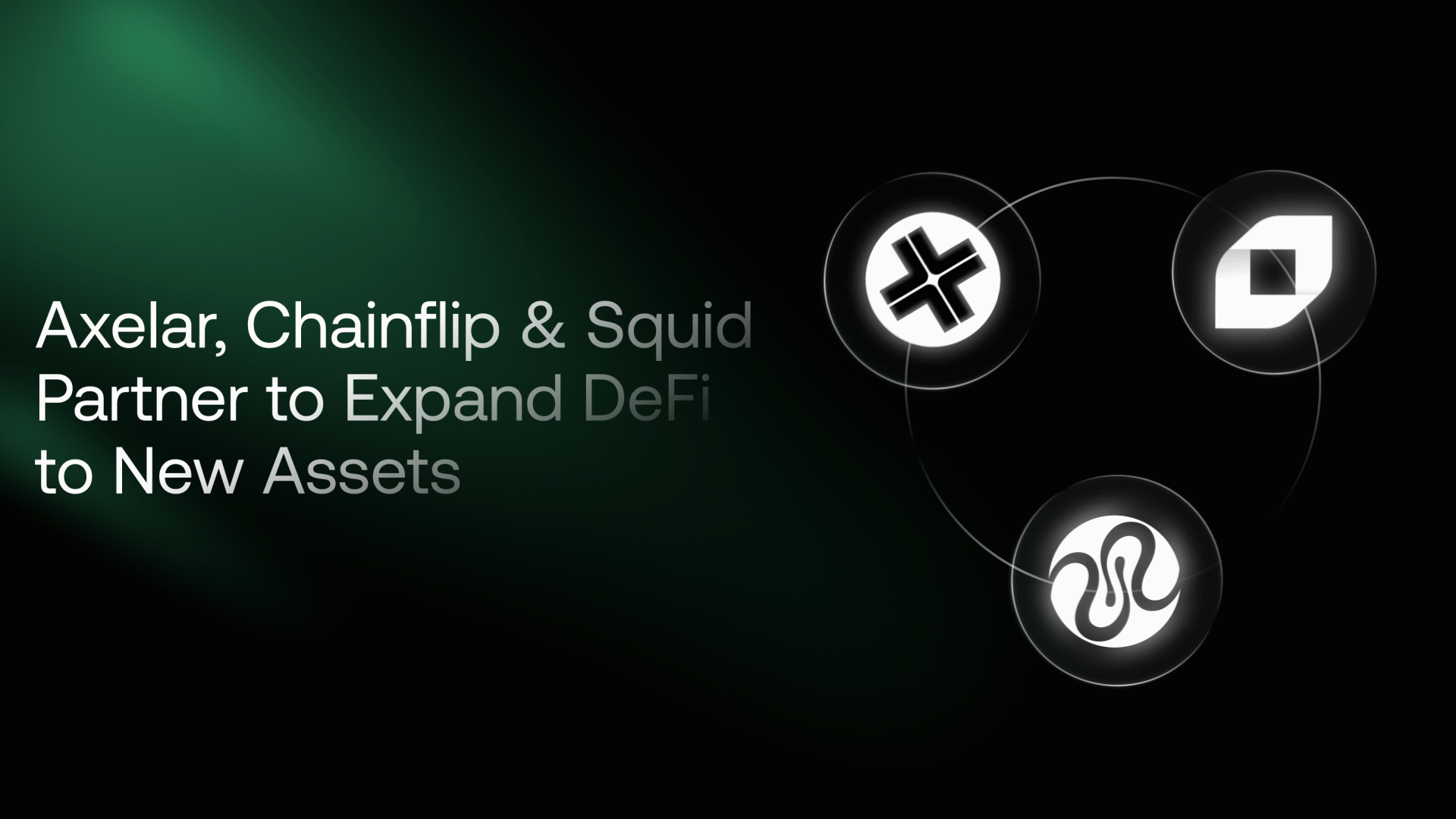 Chainflip is now in the final stages before its launch, with a focus on not just offering an alternative to centralised exchanges but providing a superior option for users to swap assets in a native manner.

The goal of displacing centralised exchanges is a formidable one, but we believe it can be achieved through two steps.The first is to create the best cross-chain DEX technology and user experience, and we are making significant progress in this area. (For the latest, see our recent Development Update here). The second step is to identify and partner with like-minded entities who, through working together, will accelerate adoption of cross-chain solutions.

We're therefore thrilled to be kicking off our partnership programme through unveiling plans to create a two-way integration between Chainflip and Squid, the recently launched cross-chain token swapping service. This partnership will bring users of both Chainflip and Squid even greater access to cross-chain swaps between a wider variety of blockchains, powered by Axelar. (Further details on Axelar & Squid are included below).

The first concrete commitment made in this new partnership consists of a mutual web-interface integration for both projects. This means that the Chainflip and Squid web apps will integrate support for the other to aggregate swaps to chains that the other cannot yet support.

As an example of what this might look like, users of Squid and other Axelar ecosystem products will be able to swap native BTC through the Squid web interface by routing at least part of the swap through the Chainflip protocol. Similarly, users will be able to swap assets on one of the many Ethereum chains supported by Axelar and Squid when using the main Chainflip web interface.
Messaging Compatibility
Axelar has always centred around cross-chain messaging, Squid preserves this property while adding swaps to the service and Chainflip has recently added the technology to its stack to make aggregation and plug-ins with the DEX much simpler.

Furthermore, Chainflip is committed to adopting messaging standards that are compatible with Axelar's existing protocols, making it easier for Axelar builders and ecosystem partners to connect with chains that are not yet supported by larger messaging protocols. This will also provide access to a broader range of cross-chain markets that are not yet represented or liquid enough on existing DEXes.

This collaboration is designed to make it as easy as possible for builders to create the experiences that they are imagining without having to learn and develop multiple standards to access as many chains as possible.

Chainflip CEO Simon Harman said, "This two-way integration between Chainflip and Squid will greatly improve both pricing and access to more assets for users of both products, and is a huge step forward in making cross-chain products much more competitive. We think it's vital that like-minded partners in the DeFi ecosystem find ways to work together like this in order to displace centralised exchanges."

Fig, co-founder of Squid commented: "As activity cross-chain's potential develops at pace, we're excited to be partnering with another like-minded player who shares our vision and values. With Chainflip due to launch later this year, we were keen to build a partnership from day one which will mean a better experience for both Squid and Chainflip users."
About Axelar & Squid
Axelar is the decentralised cross-chain messaging network that powers Squid. Squid is a cross-chain liquidity and messaging router that swaps across multiple chains and their native DEXes via axlUSDC. Axelar supports a large number of Ethereum & Cosmos chains already through an entirely decentralised protocol and messaging network.
About Chainflip
Chainflip is a decentralised cross-chain DEX launching in Q2 2023 that utilises threshold signature schemes, its own blockchain, and a purpose-built Automated Market Maker (AMM) with Just-in-Time liquidity to enable native cross-chain swaps. It provides users with access to native assets from different ecosystems such as ETH, DOT, and SOL, as well as assets not yet integrated into the DeFi landscape, such as BTC, ADA, and XRP, without the need for smart contracts. Trading takes place on a decentralised, permissionless network at highly competitive prices with low slippage.