Chainflip Community Update #2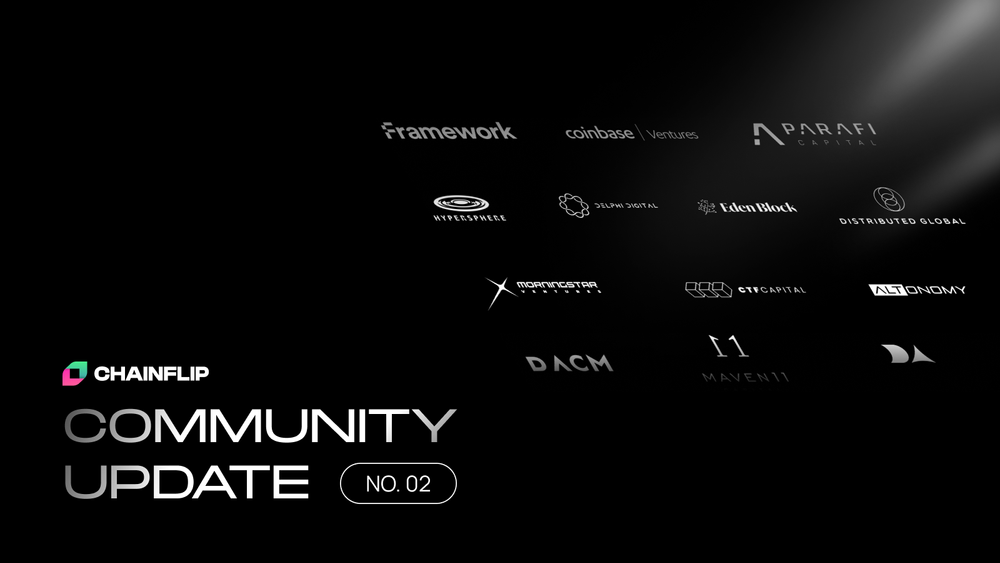 with @SimonAHarman - CEO
Welcome back to the second Chainflip Community Update. I wrote an IMPERIAL TON OF WORDS in the first update back in April, so I thought now would be a good time to give the people what they want, a succinct* update of what we've been up to and where we're heading. The market is spicy, and so are things at Chainflip, although I know there hasn't been as much regular information coming out as I would have liked. In any case, thank you for the continued support we've been receiving across all our channels, it means a lot. Anyway, enough small talk. Let's get stuck in.
Part One: Investment Update
Part Two: Release Update
Part Three: General Chainflip Housekeeping
Investment Update
Leading with some good news, hot off the press, Chainflip Labs is excited to announce that we have closed our final pre-launch token round with participation from some industry heavyweights who have a track record of backing hugely successful projects. Framework Ventures led the round which also included ParaFi Capital, Distributed Global, Delphi Digital, Hypersphere Ventures, Coinbase Ventures, DeFi Alliance, Altonomy, Maven 11, Edenblock, Morningstar Ventures, and CTF Capital, along with several other angel investors and strategic partners. This builds on an already strong lineup from previous rounds including Blockchain Capital, Mechanism Capital, DACM, CMS Holdings, Metacartel, and more.
Last time I told you that we had decided to condense the remaining token fundraising rounds into a single raise of $5-6m at a 45m valuation, and we did exactly that. I'd like to reiterate that the goal was not just to raise the funds, it was to engage key stakeholders that are here for the long haul and share our long-term commitment to the ecosystem. Over 65% of the tokens distributed from the 50m FLIP slated for distribution at the token generation event have been committed to validator lockup conditions. In addition, minimum liquidity commitments from several funds and market makers were secured in this round. We couldn't be happier with the group and the experience they bring, and have guaranteed that the Chainflip protocol will launch with a distributed set of highly reputable validators and liquidity providers.
Of course, for maximum distribution, we are very excited about the LBP and Oxen airdrop program distribution as well to ensure that the general community also is able to secure the network and provide liquidity. For Chainflip to succeed, we all need the trifecta of team, funds, and community. Our goal moving forward will be to aid the community to grow and develop some further engagement activities to complete the scaling efforts required to break through the cross-chain market. While the developers plug away at the upcoming Sandstorm release and Token Generation Event (TGE), our new communications team has already started working their magic to make Chainflip a better place for the community. Joining us recently is DJ Hitch, who spent the last three years at BitMEX, most recently running their customer support team, and ViralDJ, a senior marketing professional bringing his love of DeFi and concrete marketing skills to the fore to ensure we maximise our engagement, reach, and following.
Now that our final token fundraising round is out of the way, I can hear your cries, what does it mean for MEE and the TGE! - Well, in my last update I made some heavily caveated predictions that the LBP would be live in August at the latest. If a heavily caveated statement is made in the inaugural community update, does it even exist? Well, yes it does - but I refuse to concede that even if I use the word caveat 4 times in bold writing, I will still be held to those predictions.
To give everyone some more context, the LBP is heavily contingent on our ability to release Sandstorm in relatively quick succession. As everyone should remember from my first update, Sandstorm is the release that will allow FLIP holders to stake their tokens on the validator network and start earning yields and participating in the network. As a project, and as a community, it's not helpful to release the native token without the relevant functionality, both for market performance reasons and for regulatory reasons. And on that note, here is an update on how the build is coming along:
Release Update
As I mentioned in part one, the plan and the architecture of the product is long complete, and we are deep in build mode. We have also continued to add developers from a wide range of backgrounds and skillsets, with protocol researchers, front-end guys, rust nerds, and a new senior devops man with a beard and lots of Iron Maiden T-Shirts. I'm proud to say that we have reached the end of our initial scaling phase and have filled all major critical roles in the development team. We're always on the lookout for more talent though - if you would like to recommend someone to come join us, please tell us.
In part one, I spoke about audits and security in some detail. If the events of the last few weeks have shown us anything, it's that building cross chain solutions is no easy task, and doing it in a robust and secure way is even harder. We have two well-known firms booked to audit Sandstorm pre-release. Even once those are complete, the initial audit is by no means going to be the end of the story. We have always taken security very seriously and have designed the entire Chainflip stack from a first-principles basis to reduce complexity wherever possible. Simplicity makes it easier to ensure maximum security, and we want our LPs and traders to be confident that we have done all we can to ensure they can provide liquidity and flip with confidence come launch time.
This has meant refactoring much of our work more than once already. Our policy is to do it once and do it right the first time, which means things take longer and unexpected delays arise when we realise there are better ways to do things. If there's anything that has been clearly proven in the last couple of months, the old adage of "JUST SHIP IT" doesn't work for complex protocols with a high risk potential. The goal is to not test in production and then spend months or years playing catchup on a live network and lose millions in the process. The goal is to get it right.
So, with that, when is this god damn release going to be ready? At this stage, November is the earliest you should expect to see Sandstorm live given our current audit timelines. The TGE will be shortly (1-4 weeks) before the validator network is active. And yes! I am going to write CAVEAT CAVEAT CAVEAT even with an amazing team of 23 people and most of those people being engineers, we make no promises about that timeline. Distributed software is genuinely hard.
BUT GUESS WHAT! If the team and community can get this right, we are staring down the barrel of a multi-billion dollar opportunity. Spot trading is the most lucrative market in the entire industry and always has been. Solving frictionless cross-chain swaps in a meaningful way is an opportunity worth at least 20% of the cross-ecosystem spot trading market, a market which is significantly larger than all ERC20 token markets combined. Chainflip is, in my personal view, the only design which stands a meaningful chance of capturing that market opportunity. There you go. There's some hype.
Last but not least, we have some piping hot alpha. Our UX/UI team has been grinding hard on the first iterations of the trading interface, and we know the people are keen to see it. You may think that we can simply copy-pasta Uniswap and call it a day. Not so - Chainflip is a unique protocol with its own unique user flow, and Tom, Simon and Huge Person have been hard at work putting it together. Clearly this isn't the finished product, it might require some tweaking, but we think we are well and truly on the right path. Without further delay HERE IT IS!

This healthy UI mockup took a grand total of 18 minutes to whip up. Fortunately, this high-meme-value interface pales in comparison to the real one which has been worked on for well over 2 months now. We have some really interesting problems to tackle when it comes to UX and UI, and we've made cracking progress. In fact, we're working on a clickable prototype, so it's actually pretty close to being ready. We're just assholes and want to wait a little before showing it off as it will still be some time until it is used in production and we don't want to set expectations too high just yet. Soon™. Let us know if you have any ideas, or you want to share some of your favourite UIs from around the DeFi space, come hang out in the Discord.
General Chainflip Housekeeping
It's been all go here in the Berlin office. People have been flying from all corners of the globe, and our ops team has been hard at work getting everyone settled in. We had our first office desk rearrangement as headcount exploded with the addition of some new developers and community/comms members. I can report that a few existing members are unhappy with their new desk location, a few monitors were hijacked, there are some missing chargers, but all in all, things are looking settled.
Since my last community update, I made it out of the prison island that is Australia and arrived in Berlin. I have been personally hard at work with what feels to be an endless stream of lawyers and contracts, but I'm not selfish enough to drag you into that swamp with me. All I'm going to say is that we are making steady progress, and the hoops we have to jump through are looking less fiery and a lot wider in diameter. We'll have more to say about the Chainflip Labs corporate structure in the coming weeks and months, but there's exciting stuff going up. Not down. Up only.
Conclusion
Chainflip has scaled. We have raised funds. We are pushing hard to the Sandstorm finish line so we can launch the LBP and the token. We have secured validators. We have built MANY relationships with other teams and ecosystem partners. We have audits underway and more planned. We have a brand new communications team ready to amplify our efforts to engage the community. Your continued support and engagement are not only appreciated, but essential for the mission. Thank you.
Until next time, with love,

Simon Harman, a.k.a DJ Jaywalk