Chainflip Community Update #5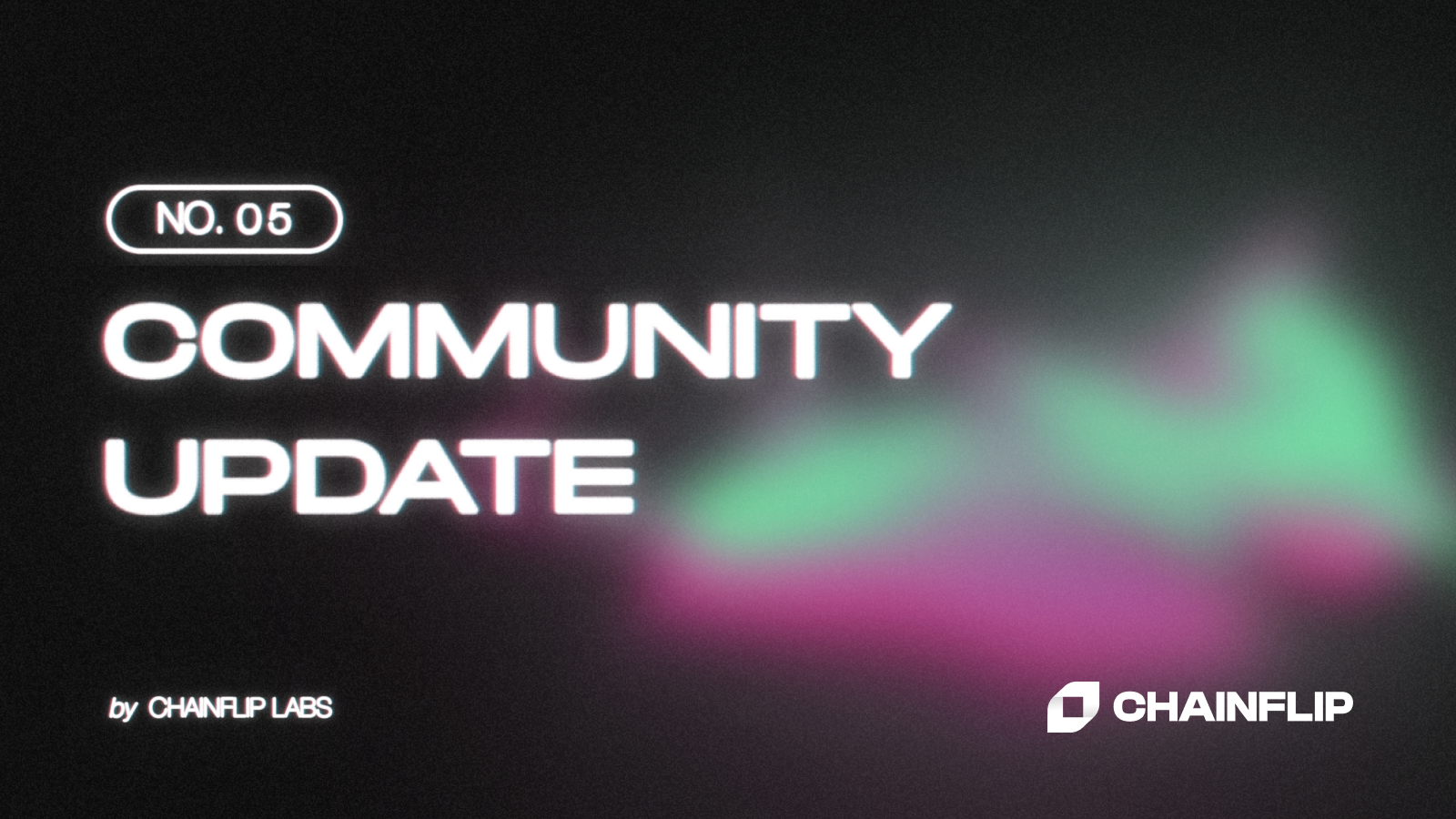 Chainflippers: it's been a while. The aim was to do these community updates quarterly, but there is a completely new white paper coming out shortly, and brand new Chainflip documentation incorporating lots of new design changes, which have both been taking up my writing time. More importantly, with Soundcheck still running until very recently, I thought I'd wait till it's over to get this out, so that I could give you all a sense of what comes next.
We've got a lot to cover, so strap in!
The TL;DR:
Soundcheck Testnet Recap
AMM Development & Release Planning
Equity Round Announcement
DJ AMA Livestreams (they're a hit)
Chainflip's Strategy to succeed in these times
Action items for the TL;DRers:
Be here: Friday June 10th at 1500 UTC for round two of this.
Let's get into the details:
Soundcheck Recap

With many months of turmoil and sweat, the Chainflip Labs development team have been working hand in hand with our Active Soundcheckers to battle test the core of the Chainflip network. We found a lot of minor problems that cumulatively led to months of work, but it has all paid off…
That is, right up until we happened to trigger a totally unrelated bug in the Substrate GRANDPA finality module (which, by the way, we didn't touch), which broke over 2/3rds of the Soundcheck nodes and effectively bricked the network for weeks. If the bug had bricked any less than 2/3rds, things would have continued, but we and all the Soundcheckers have been told by Parity that we were just unlucky.
The bug has since been kindly patched by Andre, one of the Parity developers, but the finality of the original Soundcheck chain could not be restored without committing significant developer resources. We thought that it would be better spending that time developing Chainflip features, rather than recovering from a bug that will never occur again. Thus, Soundcheck-2.0 was born to finish off the program, with everything running smoothly. We've been able to shut off the incentive program at last but the chain lives on.
A range of upgrades are coming to Soundcheck-2.0 which will persist as our public testnet for the foreseeable future, dubbed Paradise Spec. These upgrades should bring the Chainflip codebase to a near-Sandstorm ready state. That's right, you heard me. We have 2 more planned releases, and then all development resources will be focused on developing the Ibiza AMM Beta. For a deeper dive into the story and progress of Soundcheck, be sure to check out @Hitch's No Flipper Left Behind Soundcheck write up.
AMM Development & Release Planning

DJ Flippantnickelbag was adamant he could code the AMM in 2 weeks. We were all eating our words, having not believed him, only to find that it actually only took a total of 3 days to port the Univ3 math logic to the State Chain code. The web team has the swapping app looking red hot. Progress is looking fantastic with much of the complexity having already been dealt with during the Sandstorm release build. That being said, with all of these things, we do not expect smooth sailing. There's probably a lot of fine tuning required, and additional tools that we need to make the product experience worthwhile.
But still, this rapid progress begs the question, when will the LBP/Sandstorm launch be?
The answer lies in the AMM development. Ideally we will launch the LBP about three to six months before the Product Launch. Enough time for the validator network to stabilise before rolling out major upgrades, but not so much time that we lose momentum. Therefore, our LBP/Sandstorm timing is going to be informed by the progress we make on the product launch.
We have always been hesitant to give out exact dates, as we have learnt through Soundcheck that deadlines are always meant to be broken, and put unnecessary expectation and pressure on the development of the protocol. However, I've never seen Tom Nash so confident about the date we've set internally before. The only blocker to the date that we can see is the timing and results of the Trail of Bits security audit that we've booked in. Based on our internal timelines, the audit will be all wrapped up before our product launch date.
Equity Round & The State of the Market

Of course, it would be remiss to neglect the state of the current market. Right now is a pretty dicey time to try and launch a token before the full product suite is completed. After the implosion of Terra and continued volatility in the macro context, we expect to see another 6 months of volatility and consolidation taking place across all sectors within crypto. I'm sure we all hope for an end to the war in the Ukraine, a stabilisation of energy prices, and a healthy consolidation period for markets which, including crypto, have been running hot for a long time.
With our recently announced $10m equity round, these challenges do not create any concerns for the Chainflip Labs runway. We're grateful to be sitting on about 4 years of time, and will not have to do any further fundraising for now, with the future LBP proceeds collected by the Crosschain Foundation probably being dedicated to liquidity. Our team has scaled and developed nicely, and with only 3 roles left to fill to bring us to full-launch staffing capacity. Our next major push and spending increase is likely to come during our product launch, and when we go out to make sure it gets the right  product-market fit, users, and integrations.
With all of that being said, I know how much the Chainflip community has been excited to see the $FLIP token come to life, especially those who have been waiting since 2020. We have to make sure we do it right. We only get one shot to launch this thing, and a lot of the important factors are out of our control. I am fairly confident that markets will improve towards the end of the year, provided a major global depression can be avoided. We'll be ready, whatever comes.
DJ AMA Livestreams

As he'll tell you himself, Hitch has a lot of ideas, most of which are pretty awful (like that time he tried to get the whole team to play cricket in treptower park). Now and then though, he pulls a game changer out of the hat. "Why don't you teach me to DJ on a livestream?", he says, one Thursday afternoon. "Because that would be atrocious" is all I can say to begin with. However, something clicked in that moment, and he and I both realised he was on to something.
The thing is, most AMAs and community calls are exceptionally boring. With no less than 4 decent DJs in the Chainflip Berlin office, why not bring Boiler Room vibes to our community calls? A little risque, perhaps, but we were keen to roll the dice.
After a hurried assembly of audio equipment and random paraphernalia around the office, and using the OBS skills we had acquired in preparation for a future community call, we had the makings of something interesting, with a surprisingly high degree of production quality. A total shot in the dark, we quietly posted a Youtube stream link to the Discord without fanfare, and began playing. 90 minutes later, with great tunes, solid banter, and a surprising amount of good questions and engagement told us that this might be going somewhere. A short highlight reel was produced, and here is the result.
The cross-chain world is definitely missing live streamed AMA DJ sets from office kitchens. Chainflip fixes this.

Join us next Friday as we run it back, turbo.

Livestream DJ Set/AMA from Chainflip Labs, 1600 UTC Fri 6th May. pic.twitter.com/uevGHNEU6N April 29, 2022
Come the 6th of May, and we had committed to pre-announce it this time. The results were excellent. We had 800 people come and virtually join us for a party in our office on a Friday night, where we had some bangers thrown down by DJ XO and DJ Gov'ner, with special guests from Celestia and Cosmos joining the fun too.
Boy, a week is a long time in crypto. ⁰⁰This time last week we were running our first official DJ AMA stream.

Here are some highlights. We hope this can put a smile on your face after a tough week.

[Sound all the way up] https://t.co/O2eImYhGLA May 13, 2022
We really want to turn this into a thing. We're going to do one every 5-6 weeks, and we would love to invite special guests from other crypto teams to come join the fun too. The goal is that in the future, we can include lots of people in the Chainflip ecosystem in this fun and weird party community call.
We'll be doing another one on Friday June 10th at 1600 UTC. That's another /Berlin Chainflip Office/ edition (and we might leave it online for later consumption this time), so if you're interested in joining us, let us know in our Discord or Telegram channel.
Further to that, we are trying to figure out how to do one live from Paris during EthCC. Hopefully we can get lots of people from outside of the Chainfliposphere involved in that one! If you'll also be in town that week, ping me!
A Final Word on Chainflip's Potential for Success.

I've said it before, and I'll say it again. I remain confident that Chainflip will be the preferred cross-chain swapping tool for users and developers alike. It won't work for everything, but based on what I'm seeing, it is the only decentralised tool in development that will meet user expectations of what a cross-chain experience should be.
With the complexity abstracted in the background, and with a generalised solution, Chainflip stands to be the best shot we have at displacing centralised exchanges, improving Web3 product experiences, and bringing more spot volume on-chain.
With a couple of high profile cross-chain launches having come and gone since the last update with no revolution in the way we use crypto whatsoever, it's clear the opportunity is very much alive. It won't happen overnight, but no new useful primitives have been created for users or developers in recent months.
To get a better idea of what I'm on about, in the last 2 months we have completely overhauled our protocol documentation at https://docs.chainflip.io with a brand new whitepaper being compiled from it right now. If you're keen to get an idea of what our 2022 Thesis is, check this out. As time passes, the Chainflip product plans are being adapted as we watch other cross-chain products in the market. Most significantly, Chainflip has advanced its product forward with the JIT AMM design we announced back in February.
We believe this design change stands to help Chainflip achieve extreme capital efficiency and near perfect pricing for users. Gnosis' CowSwap has broken the ground on some of this stuff already, though we believe that the use case is much more suited to the Chainflip protocol, and have designed mechanisms to help the market makers, and therefore also users to get next to perfect pricing every single swap. Read it - I would love your feedback!
On a more personal note, we moved into our new offices in Berlin at the start of April, and it has been a blessing. Large windows, vaulted ceilings, and much space and brightness in our factory conversion right in the best part of Kreuzberg has made me a true enjoyooor. The mood, despite all that's going on, is pretty damn high around these parts, and I couldn't be more grateful to the wonderful people on this team and the wider Chainflip family, not only for making comfy testnets, but a very rewarding work life too.
And with that, it's time for me to sign off. I hope that through these turbulent times you are still keeping well, and that I'll see you in Berlin, Paris, or somewhere online very soon.
PS. It is very likely that Chainflip Labs will be throwing an event in the middle of Berlin Blockchain week, somewhere between Dappcon and ETH Berlin in mid September. Stay tuned for updates.